WHMIS 2015 Video Training
YOW's WHMIS DVD training is in the midst of a major revamp!
Please call or email to place an order or inquire about this update: 1.866.688.2845 or info@yowcanada.com
If online training is not an option for you, video training may be the answer! With this product, you can perform the training yourself in-house one-on-one or in groups.
Approximate training time: 1.5 hours
WHMIS 2015 Video Training Bundle (DVD + 10 Training Packages)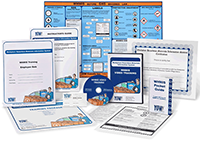 yow025
Price: $399.95
This WHMIS Video Training package is an effective and interactive way to keep employees up-to-date with training requirements. The package consists of 2 DVDs and 10 Training Packages.
By purchasing the DVD training package bundle you save $70!
You can also create your own custom training package by selecting a combination of WHMIS DVDs and any number of Training Packages that are shown below.
The Bundle Includes:
Original WHMIS 1988 DVD + WHMIS 2015 Update DVD
1 WHMIS 2015 Compliance Poster (34" x 22")
1 Instructor's Guide including tracking sheet & answer key
10 Training Packages, each with:

Quiz
Example Labels and MSDS|SDS
WHMIS 2015 Pocket Guide
WHMIS Certificate (wallet & wall-mount)
---
WHMIS DVD Custom Bundle
WHMIS 2015 Video Training (DVD)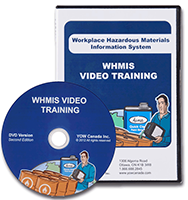 yow022
Price: $199.95
A complete and interactive WHMIS course on 2 DVDs including audio, animation and illustration.
Trainees follow the video using reference materials included in their Training Package (see below). Trainees complete a quiz after every chapter. Each employee receives a WHMIS training certificate.
With each video you receive: a large WHMIS Poster, Instructor's Notes, Answer Key and Tracking Sheet.
Please note: DVD orders must include at least 1 training package - which will be automatically added to your order.
The 2 DVDs cover both WHMIS 1988 & WHMIS 2015:
WHMIS Introduction
WHMIS Roles & Responsibilities
WHMIS Symbols
WHMIS Labels
MSDS Forms
Intro to GHS
Update to WHMIS 2015
Interactive exercises, quizzes & tests
WHMIS 2015 Video Training Package(s)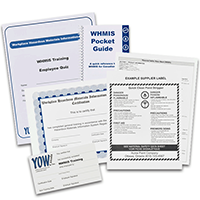 yow024
Price: $29.95
Each employee who requires training must have their own Training Package. Trainees follow along the video using the reference materials included in the Training Package.
Please note: Orders with Training Packages must include at least 1 WHMIS DVD - which will be automatically added to your order.
Each Training Package Includes:
WHMIS Quiz
Example Labels and MSDS|SDS
WHMIS 2015 Pocket Guide
WHMIS Certificate (wallet & wall-mount)
QTY
1-9
10-49
50-99
100-499
500+
Price Per Package

$29.95

$26.95

$23.95

$19.95

Call for Quotation